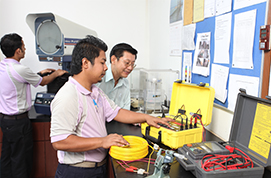 Mega Kabel prides itself on its customized manufacturing system, which forms the basis of lean, highly efficient floor operations.

The company's production and testing processes have contributed greatly to where Mega Kabel is today.

The plant's 24-hour operations, employing industry-approved machines, are overseen by a qualified on-site technical team at all times.

With an eye on constant upgrades and stringent double-testing on every coil that eventually leaves the production floor, Mega Kabel has an enviable, zero-fault track record which it aims to keep at all cost.